1941
Peter Andreoli is born April 28 in Providence, Rhode Island, the second of two children, after sister Caroline, from his father's second marriage.
1942
Vincent "Vini" Poncia, Jr. is born April 29 in Providence, Rhode Island.
1946-1955
Peter shows great interest in, and aptitude for, music. He receives a ukulele at age five and later, at age nine, a guitar and his singing voice begins to develop. He performs in various settings with other neighborhood children including his sister and a neighborhood friend, accordionist Freddie Pesaturo, at community, church and social  functions.
Italian songs and the hits of the day form the basis of his repertoire. He studies the guitar at Axelrod Music in downtown Providence.  By 1954, he becomes enamored of the Rhythm & Blues and early Rock 'n' Roll music he's heard on the radio and turns his attention to the new sound.
1956
While a student at Mount Pleasant High School, Peter replaces Donald Baker as the lead singer in the original Videls, joining Norman Marzano, Bobby Calitri, Maurice "Jimmy Boo" Bouchard, Dino Amaral and guitarist John Corsi in the group. Their sound is  based on the classic five-part harmonies of the popular doo-wop groups. Jimmy Bouchard soon steps aside assuming a managerial role and relinquishing his place to Frank Bianchini. The group makes quick headway into the local music scene and within the year, Peter convinces his friend and on-the-side collaborator, Vini Poncia, to join The Videls as vocalist, musical director and guitarist replacing Corsi. Bianchini departs shortly after that leaving the group in its classic five-piece lineup.
1957-1958
The Videls steadily increase their fan base and make fast progress musically. They become one of the top acts on the Rhode Island teen scene performing at school dances and proms, CYO (Catholic Youth Organization) gatherings, private functions and occasionally (though underaged) in nightclubs. It was around this time that Peter adopts the anglicized version of his surname as his stage name: Peter Anders.
On October 4, 1957, Russia kickstarted the space race by launching the first satellite – called Sputnik – into outer space causing a wave of worldwide reactions ranging from wonder to fear. Bobby Calitri's reaction was musical inspiration! He wrote a song called "Love On A Satellite" and The Videls went into a local studio to make their first ever-recordings in late 1957 or early '58. The small studio was located in the backroom of Sock's Radio & TV Repair shop on Hawkins Street in Eagle Park. The owner, James Sock, had a tape recorder and mics and also a lathe to cut acetates if customers wanted records to play at home. They recorded Bobby's song there as well as one of the earliest Anders & Poncia creations, "Doesn't Care," and left with a copy of the tape.  (Although nothing happened right away with these songs, the group apparently still thought they had something and the two demos were eventually made into an acetate at the Audiosonic Recording Co. in the Brill Building in Manhattan.)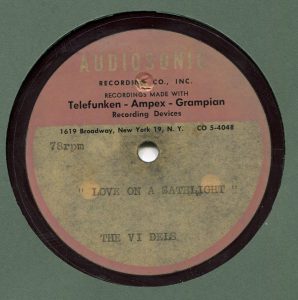 In the summer of 1958, the group's manager, Jimmy Bouchard, secures a record deal with a local label, Rhody Records, run by building contractor Joe Criscione. Their first record, "Place In My Heart" (written by Peter with Bouchard) backed with "Be My Girl (by Calitri), becomes a local smash selling over 5000 copies and reaching #1 on the local charts toward the end of the year.
1959-1960
The Videls become the area's top attraction performing at larger and larger venues to bigger and bigger crowds. They continue to progress musically and it was during this time that Peter and Vini form their song writing partnership. At this point, Dino Amaral leaves the group to join another local doo-wop group, The Corals, with the Mancini Brothers (Joe and Richard) and Louie Camp (later one of the area's top saxophonists). He was replaced by Herbert Rickey. This final Videls lineup lasts until the breakup of the group. Encouraged by the Rhode Island-based hit songwriter Jimmie Crane and armed with a connection to Lucky Carle, a Rhode Island native then working for the large music publishing firm Peer-Southern in New York, the boys begin to make frequent forays into the city to hawk their wares as performers and writers. This quickly pays off in the form of a contract with JDS Records, a division of the powerful Kapp Records empire. Their first national release, "Mr. Lonely", an Anders & Poncia original, becomes a big hit while Vini is still in high school and the group is whisked off directly after his graduation ceremony to join Dick Clark's Caravan Of Stars tour which includes an appearance on American Bandstand.
1961-1963
Despite several more excellent releases which charted in New England, the group fails to repeat their national success and retreats to Rhode Island. Peter stays behind in New York to seek a song writing contract and meets up with the legendary composer Doc Pomus ("Save The Last Dance For Me", "A Teenager In Love", "Turn Me Loose", and dozens of others). Doc takes Peter under his wing and secures him a contract with the mighty Hill & Range Music, publishers of, among others, Elvis Presley's catalogue. Peter immediately convinces Vini to leave his lucrative gig back in New England with the Bob Chappel revue and to return to New York to share his room at the songwriters' home away from home, the historic Forrest Hotel, as well as his weekly salary of $50.00 or $25.00 each. Peter and Vini find themselves smack-dab in the middle of what is now called "The Brill Building Sound"  and they turn out dozens of songs for Hill & Range, rubbing shoulders with and collaborating with some of the greatest talents in the history of American popular music: Gerry Goffin & Carole King,  Doc Pomus & Mort Shuman, Jeff Barry & Ellie Greenwich, Barry Mann & Cynthia Weil, Neil Diamond, Paul Simon and Ritchie Cordell, to name only a few. During that time, they are noticed by Phil Spector, then an up-and-coming composer/producer working under Jerry Leiber and Mike Stoller at Atlantic Records.
In order to supplement their meager songwriters' salary, Pete and Vini continued performing under the Videls name. In New York City, they used hired hands as backup singers and musicians. On relatively frequent weekend trips back to Rhode Island, they'd reunite with the original members and other close friends and associates such as Dick Domane, Ronnie Sands and the Mancini brothers to perform at area clubs. One interesting episode from this era involved merging The Videls with The Mystics. After "Hushabye" had run its course, George Galfo and Allie Contrera of The Mystics found themselves without a lead vocalist. Since Pete and Vini had no backup singers, a plan emerged to tide them all over. The four singers performed as both The Videls and/or The Mystics for a time. At some shows, they'd even present both groups with a simple costume change. There were also back-to-back appearances on Clay Cole's popular television show: the first week as The Videls and the following week as The Mystics. Two recordings emerged from this temporary union: "Hand Clappin' Time" released on Big Top as a "Pete & Vinnie" single, and "Save A Dream", a Mystics recording with Pete and Vini which, although unreleased at the time", saw the light of day on many compilations beginning with 1981's "A Letter From The Videls" on Magic Carpet.
1964
By the autumn of 1963, Spector, having successfully launched his own label, Philles Records, in 1962, secures the services of the Anders & Poncia team via a "lease" agreement with Hill & Range: he'll pay half their salaries, Hill & Range will retain half their publishing rights. Peter and Vini are flown to California and quickly become ensconced in the heart of Spector's burgeoning Philles Records empire. During their year and a half in California, Anders and Poncia experience some of their greatest successes while working as staff writers, session musicians, arrangers and assistant producers (not to mention bodyguards!) for Spector. They work with, and become friends with, some of the greatest talents of the era and become members of Spector's house band – the infamous "Wrecking Crew" – alongside Nino Tempo, Leon Russell, Glen Campbell, Hal Blaine, Joe Osborn, Sonny Bono and Tommy Tedesco (again, to name only a few) and compose songs for most of Spector's artists including Darlene Love, The Crystals and The Ronettes for whom they write two of their biggest hits, "Do I Love You" and "The Best Part Of Breaking Up". The Anders and Poncia of this period are present on some of the landmark recordings of the twentieth century including "Presenting The Fabulous Ronettes" and "A Christmas Gift For You", Spector's classic holiday album. They also produced for Spector several other records including Cher's first recording, "Ringo, I Love You" (released under the name "Bonnie Jo Mason"); a great girl-group record written with Pomus, "(When) I Get Scared" by The Lovelites; as well as their own record, released under the name "The Treasures", "Hold Me Tight", one of the earliest American recordings of a Lennon/McCartney song.
1965
Despite their great success at Philles, Peter and Vini miss their families and friends and return to the east coast. Back in New York City, they begin writing and producing their own demos and one of their tunes, influenced by the surf music they'd been hearing in California, was placed with Leiber & Stoller, now riding high with their own Red Bird and Blue Cat record labels. Red Bird thought the demo they'd produced was of releasable quality and Peter and Vini found themselves christened "The Tradewinds". The song is "New York's A Lonely Town"  and it begins it's run up to the top of the charts and Anders & Poncia once again find themselves on the performing end of the business. They quickly bring the group to life enlisting Norman Marzano and Bobby Calitri from The Videls. The group tours nationally and performs the song on "Shindig". Further releases and continued demand for the group in live performance leads Peter and Vini to create a "road" version of the band sending Marzano (now on bass guitar) out on tour with guitarists Paul Naumann and Jimmy Calvert, both of New Jersey, and New York drummer Joe Grotsky so that they could remain behind in the studio tending to their jobs as writers and producers. It is a remarkable year for Peter and Vini as, in addition to the smash hit and tours, they also experience one of their proudest moments in the business: an Elvis Presley cut. Elvis chose their "Harem Holiday" as the theme song to his latest movie, "Harum Scarum". Elvis even consulted them on the demo via telephone as the fatherly Pomus listened in.
Here's some great footage from 1965: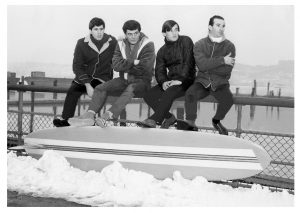 1966-1967
Toward the end of 1965, Peter and Vini accept an offer to move their services over to Artie Ripp's Kama Sutra Records, then riding high with The Lovin' Spoonful. Keeping the Tradewinds name, they quickly have another national hit with "Mind Excursion" and an album follows. Thanks to the good graces of Leiber and Stoller, the master of "New York's A Lonely Town" is transferred to Kama Sutra and is included on the album. The record is a hit and they send the road group out to promote the album while they continue their behind-the-scenes work. Not wishing to compete with their own group, Anders, Poncia and Ripp form a new studio-only band they call The Innocence and score with "There's Got To Be A Word", a song composed by their friend Don Ciccone of The Critters, a group they were producing at the time. An album follows, but the second single, "Mairzy Doats" stalls out and the name is laid to rest. For their next release, Peter and Vini try a different tactic, releasing "Sunrise Highway" as a "Peter Anders" solo record. Despite heavy airplay, the record fails to hit the Hot 100 and the duo turn their attentions back to their studio duties. During their time with Ripp, Peter and Vini continue their whirlwind activities in the business, composing, producing and performing on dozens of records for Kama Sutra and it's sister label, Buddah Records, as well as having their work leased out to other labels. Their publishers, Hill & Range, were still working their compositions and dozens of covers were recorded for a run lasting through the end of the 1960s. Among the artists and musicians with whom they were associated during this time are Tommy James & The Shondells, Vince Edwards (TV's "Ben Casey"), Bobby Bloom, Richard Perry, Ritchie Cordell, Bo Gentry, Kenny Laguna, Tony Bruno and Jay & The Americans.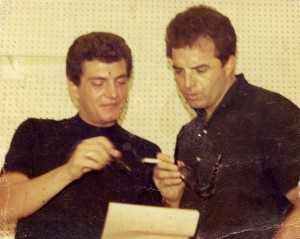 1968-1971
By 1968, the first cracks begin appearing in the Anders and Poncia relationship. Peter, who'd been dabbling with hard drugs since high school, begins to succumb to their call, often disappearing for days at a time leaving Vini to complete their work by himself. In an effort to regroup when their contract with Ripp expires, Peter and Vini decide to form their own company called Map City. Despite several fine releases, Map City fails to click and Peter – now his own boss – becomes ever-more unreliable. In a final attempt to hold things together, in early 1969 they accept an offer from Richard Perry, now a staff producer at Warner Brothers Records in Los Angeles, to join him at the label as not only writers and producers, but as artists once again. The three men produce a wonderful, folk-rock collection called "The Anders & Poncia Album", but it is not a hit and the duo retreats to the Map City offices. Little of consequence happens in the next couple of years and the two drift apart. Vini decides to pick up where he left off with Richard Perry. Peter teams up with Kenny Laguna and Paul Naumann and they relocate  to England to head up the production division at Motown Records' UK operation, Tamla-Mowtown.
(Vini Poncia, working for Richard Perry in the early '70s, becomes an important player in The Beatles camp, working with all of them as an associate producer (and later, principal producer), composer and musician on Ringo Starr's most successful albums. This leads to his Grammy-winning work with Leo Sayer and a long career, which continues to this day, as a producer for such platinum artists as Melissa Manchester and Kiss.)
1972-1978
Peter's wild lifestyle makes fast work of his tenure at Motown and he is dismissed from the company. He returns to the States and a new deal with old friend Artie Ripp at Family Productions. He cuts a self-titled, solo album for Family (featuring a young Billy Joel on piano) which fails to catch on but he stays with the company as a staff writer for the next four years. In 1977, he forms a new partnership with Canadian musician, songwriter and producer Neil Merryweather, formerly of Merryweather and Mama Lion. With a backer – and at the backer's request – they record Peter singing a new version of "Mind Excursion" with Neil producing. The record, released on 20th Century, goes nowhere and the two head to England at Peter's suggestion. Believing he still had connections in the UK from his days at Motown, Peter leads the duo to London with high hopes only to have them dashed when Peter is immediately detained as an undesirable due to some old, unresolved misdemeanor charges dating from his Motown days. He is tried and deported back to the States.
(Neil stays behind and secures himself a record deal which leads to a successful solo career extending to the present.)
1978-1988
By 1978, Peter's continuing drug problems lead him on a path to obscurity. He spends the next decade back in Rhode Island working on the fringes of the music business, writing songs for his old mentor Jimmie Crane's publishing company and taking work-for-hire when available. He subsists on income from odd jobs, dwindling royalty checks and the kindness of friends and family. He enters rehab six times, but each attempt fails. By 1989, he finds himself completely out of the music business and completely out of friends. Recognizing he's at the end of the line, Peter enters rehab for the seventh and last time and, with new resolve, finally succeeds in overcoming his addiction.
1989-1994
Newly clean and sober, Peter decides to shun the music business and the temptations it frequently offers and works in a variety of jobs including automobile sales and various positions in the health industry. In 1991, he receives a call from Vini Poncia. It seems one of the songs he wrote while at Family, "If I Can Just Get Through Tonight", has been recorded by Phoebe Snow and there are royalties awaiting him if he can be located. The pair renew their friendship and begin writing together on occasion. By 1994, after five years on the straight and narrow, Peter is sure enough of himself to re-enter the music business.
1996-2004
In 1996, he accepts an offer from an oldies reissue label, Tarragon Records, to assist in assembling a "greatest hits" package of Videls material and they offer to include some new material. He reassembles the group (minus Poncia) and cuts his first new recordings since 1977.  The album is a success and Peter re-enters the business with confidence. In 1997, he becomes the second (after Jimmie Crane) Rhode Island Songwriters Association Hall Of Fame inductee in a ceremony conducted by Rhode Island songwriter Rick Bellaire. In 1998, he begins a writing partnership with old friend Ritchie Cordell (the composer of such big hits as "Mony Mony" and "I Think We're Alone Now") and begins commuting from Providence to New York each week.  He strikes up a friendship with Bellaire and the two begin writing together as well as with Bellaire's partners, John Dunn and Carleen Machado, and Ritchie Cordell in various combinations.
2004-2010
In 2004, Ritchie Cordell is stricken with cancer and passes away. Shortly thereafter, Peter himself is diagnosed with cancer. Over the next few years, he battles  the disease, ultimately beating it. During his periods of recuperation and treatment, Peter and Rick begin to write a song cycle which reflects on Peter's life and career. These songs form the basis of Peter's next album, "So Far", and recording begins in 2007. The album is completed in 2010 and includes contributions by friends from throughout his career including Vini Poncia, Kenny Laguna, Neil Merryweather and The Lovelites. On October 16, 2010, the album's release is marked by a sold-out career retrospective concert in Cranston, Rhode Island which features an onstage Anders & Poncia reunion and performances by members of Rhode Island oldies band Reminisce, The Lovelites and world champion accordionist Cory Pesaturo. During the performance, Anders & Poncia become the first inductees into the Hall Of Fame of the Rhode Island Pop Music Archive.