MARCH 24, 2016
PETER ANDERS 1941-2016
It is with great sadness that the Rhode Island Music Hall of Fame notes the passing of 2012 inductee Peter Andreoli on Thursday, March 24 at age 74. Under his stage name, Peter Anders, he was one of the most successful musicans in R.I. music history. Working mainly with his principal musical partner Vini Poncia, Pete racked up hits as a singer-songwriter-producer with The Videls, The Tradewinds and The Innocence; as a songwriter and assistant producer while helping Phil Spector build "The Wall of Sound;" and as a songwriter with cuts by Elvis Presley, The Ronettes, The Critters, Phoebe Snow, Jackie Wilson, Phil Collins and dozens of other artists.
MAY 1, 2011
PETER ANDERS CELEBRATES 70TH BIRTHDAY
On Saturday, April 30, 2011, the family and friends of legendary singer-songwriter-producer Peter Anders gathered together to celebrate his 70th birthday. The private function was held at The Mill, a music education center in Greenville, Rhode Island and present were most of the musicians who participated in Peter's 50th anniversary in show business career retrospective in October of 2011.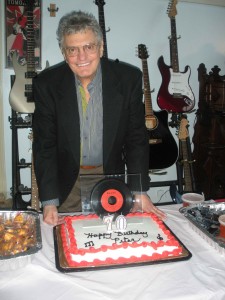 After dinner entertainment consisted of performances by the Eagle Park All-Stars (Rick Bellaire, Fred Wilkes, John Dunn, Richard Sage and Vincent Pasternak); a beautiful a capella set by all six of the vocalists from Reminisce whose work was such an integral part of the retrospective (Ron Laurito, Jo-Ann Dumas, Frank Gargiulo, Jack Mento, Ron Iacobucci and David Jackvony); and a lengthy jam session with Peter himself backed by Reminisce and the band. The highlight of the evening for many was the onstage reunion of Peter with drummer Frank Spino who was the band leader on The Videls' very first recording, the independently released "Place In My Heart" on Rhody Records from 1959. It was the first time these legendary Rhode Island musicians had performed together in over 50 years!
OCTOBER 18, 2010
ANDERS & PONCIA REUNION AT PETER ANDERS CAREER RETROSPECTIVE PLAYS TO SELL-OUT CROWD
(Photo Credits: Tim Siekiera, ©2010 TJS Photographic/B.C. Productions, LLC)
The October 16 onstage reunion of Peter Anders and Vini Poncia during "An Evening With Peter Anders", a career retrospective celebrating Peter's 50th anniversary in show business, was just one of the many highlights of the event. Playing to a sell-out crowd, Peter and Vini performed songs from throughout their career in their first live appearance together in nearly 40 years.
Other highlights of the evening were another reunion when original lead singer Ron Lewis  joined the four members of Reminisce who were in the backing group to perform a number written especially for them by Peter and the late Ritchie Cordell ("Mony Mony"); two appearances by legendary Brooklyn girl group The Lovelites who paid tribute to Anders & Poncia by performing their two Ronettes' hits during the first set and later singing their own hit which was originally written and produced by the duo along with the late Doc Pomus; and a show-closing appearance by John Cafferty and Michael "Tunes" Antunes of The Beaver Brown Band. Earlier in the evening, Cafferty inducted Anders & Poncia into the Rhode Island Music Hall Of Fame.
Other material was drawn from Peter's new album, "So Far", which was released at the concert and included the debut of the first, new Anders & Poncia song as artists since the early 1970s, "Before New York Became A Lonely Town".
The songs performed during the concert were as follows:
IF I CAN JUST GET THROUGH TONIGHT: Peter's reading of his smash hit for Phoebe Snow
THE PARTY STARTS AT NINE: B-side of "The Girl From Greenwich Village" by The Tradewinds
I KNOW YOU'RE OUT THERE SOMEWHERE: a song from the new album
DO I LOVE YOU & THE BEST PART OF BREAKING UP: Anders & Poncia's two biggest Ronettes' hits as performed by The Lovelites
WHERE ARE YOU NOW: another song from the new album
MIND EXCURSION, THERE'S GOT TO BE A WORD, BAD MISUNDERSTANDING & SOMEONE GOT CAUGHT IN MY EYE: four classic Anders & Poncia songs performed by the duo in an acoustic setting
TAKE THIS SONG: also from the new album
WHEN I GET SCARED: performed by The Lovelites
SOMEONE WHO BELIEVES IN YOU: A Goffin & King composition which also appears on "So Far"
I REMEMBER WHEN: performed by four of the members of Reminisce in a reunion with their original lead singer, Ron Lewis
BEFORE NEW YORK BECAME A LONELY TOWN: the live debut of the first new Anders & Poncia track in almost 40 years
LETTER FROM ANN, PLACE IN MY HEART, NOW THAT SUMMER IS HERE, MISTER LONELY & NEW YORK'S A LONELY TOWN: five classic Anders & Poncia songs from the Videls and Tradewinds eras
The crowd called for two encores.
A LOVE SO BEAUTIFUL: Peter's interpretation of Roy Orbison's final hit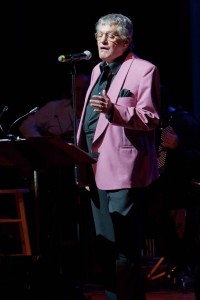 and ROCK AND ROLL IS HERE TO STAY: performed by the entire cast who were joined by John Cafferty and Beaver Brown Band mainstay, saxophonist Michael "Tunes" Antunes and WARL radio personality Guido Rosati.
Thoughout the event, which was hosted by WHJY radio personality Pete Silva, Anders & Poncia were assisted by an all-star lineup of Rhode Island musicians, dubbed for the evening…
THE EAGLE PARK ALL-STARS
Rick Bellaire: Guitar, vocals, banjo
Don "D.C." Culp: Drums, percussion
John Dunn: Bass guitar, vocals
Vincent Pasternak: Guitar, mandolin, violin, viola
Cory Pesaturo: Accordion
Richard Sage: Keyboards
Jim Seabra: Percussion
Fred Wilkes: Guitar
as well as seven vocalists…
REMINISCE VOCAL QUARTET
Ron Iacobucci: First tenor
Frank Gargiulo: Second tenor
Jack Mento: Baritone
David Jackvony: Bass
with special guest & former lead singer: Ron Lewis
The producers extand our heartfelt thanks to the other members of Reminisce (Ron Laurito, Jo-Ann Dumas, Barry Kessler & Phil Mullen) for their patience and generosity while the others worked on this project
and THE LOVELITES
Louise Robbins: Vocals
Linda Stern: Vocals
We have already received dozens of inquiries regarding audio and video recordings of the performance. The show was recorded and filmed for posterity, but there are no plans to release a CD or DVD. The show was also professionally photographed and and the first images are up. Once the materials are processed, edited and sorted, we plan to post some audio and visual souvenirs on this website as well as an extensive gallery of the evening's activities and performances.
If you'd like to order prints of any of the photographs from the show (including the candid photos from the post-concert "meet and greet" in the theatre lobby which will not be posted on this site), please click on the following link for the TJS Photographic website:
http://tjsphotographic.zenfolio.com/events
The producers, Don Culp and Rick Bellaire of B. C. Productions, LLC, wish to thank all who attended (some from as far away as Florida and California!) and all who worked onstage and behind the scenes (Bear Dyer, Skip Gervais and Joe Greathead) to make the evening one of the most memorable and historic musical events in Rhode Island history.
AUGUST 16, 2010
PETER ANDERS TO CELEBRATE HIS 50TH ANNIVERSARY IN SHOW
BUSINESS WITH A CAREER RETROSPECTIVE CONCERT
On Saturday, October 16, 2010, at 8:00 p.m., legendary Rhode Island musician PETER ANDERS will headline a musical retrospective celebrating his 50th Anniversary In Show Business. The concert will be presented by BC PRODUCTIONS at The Rhode Island Center For Performing Arts located in the beautifully restored historic PARK THEATRE at 848 Park Avenue, Cranston, Rhode Island.
This event promises to be a truly memorable evening for several reasons:
– 2010 is the 50th anniversary of the release of "MISTER LONELY" by THE VIDELS, a record that marked the beginning of Peter's half-century journey through the maze of the music business. His path began in Providence when the boys from Mount Pleasant High School were whisked away from their graduation ceremony to make an appearance on Dick Clark's AMERICAN BANDSTAND.
– Peter retired from live performance in the early 1970s to concentrate on song writing and record production. His return to the stage for this event will be his first live performance in 36 years.
– This is a one-time engagement; no further appearances are planned.
– The concert will also celebrate the release of Peter's new album, SO FAR, his first major release as an artist since 1972.
The repertoire for the evening will be drawn primarily from the historic songbook of ANDERS & PONCIA. Peter and his principal musical partner, VINI PONCIA, JR., found worldwide success composing, producing and/or performing some of the most timeless music of the 1960s and '70s. In addition to the music of The Videls, their work will be represented during the performance by songs originally performed by THE TRADEWINDS ("New York's A Lonely Town"),  THE INNOCENCE ("There's Got To Be A Word"), THE RONETTES ("Do I Love You?") and PHOEBE SNOW ("If I Can Just Get Through Tonight") and many more.
Other selections will be from Peter's new release, "So Far". The album is an autobiographical song cycle composed with Peter's current writing partner, Rick Bellaire, and recorded with the help of some very special friends including Vini Poncia, KENNY LAGUNA (Joan Jett & The Blackhearts), legendary girl group THE LOVELITES (Louise Robbins and Linda Stern) and NEIL MERRYWEATHER (Mama Lion). Please click over to the "New Album 2010" of this website for more information on this exciting new release.)
In addition to an on-stage Anders & Poncia reunion, Mr. Anders will be accompanied by The Lovelites as well as four of the vocalists from Rhode Island's top oldies group REMINISCE (Jack Mento, Ron Iacobucci, Frank Gargiulo and Dave Jackvony), accordion virtuoso Cory Pesaturo, and a Rhode Island all-star ensemble lead by Bellaire featuring drummer Don "D.C." Culp (John Cafferty & The Beaver Brown Band), violinist Vincent Pasternak (Rob Carlson & Benefit Street), guitarist Fred Wilkes and keyboardist Richard Sage (both of Loose Change), bass guitarist John Dunn (The Dunn Brothers), and percussionist Jim Seabra (R.I. Philharmonic).
Another highlight of the evening will be when Anders & Poncia become the first inductees into the Hall Of Fame of the recently organized Rhode Island Popular Music Archive.
Tickets sales begin August 16 and are available online, by telephone or daily at the theater box office:
Park Theatre
848 Park Avenue, Cranston, Rhode Island
401-467-7275
www.ricpa.net
JUNE 11, 2010
ANDERS & PONCIA REUNITE FOR NEW PROJECT
On June 10, 2010, history was quietly made when the famed Brill Building-era team of Peter Anders and Vini Poncia, Jr. reunited at a recording studio in Providence, Rhode Island. With Vini producing, they began work on a new recording planned for inclusion on the upcoming Peter Anders solo album to be released in the fall of 2010.
Along with musician Rick Bellaire, who is co-producing the album with Peter, the duo began work on the backing track for a song the trio composed in 2009. Also present at the session which took place at Sage Sound Solutions were engineer/keyboardist/associate producer Richard Sage and percussionist Don "D.C." Culp. Watch for updates as work on the track resumes.