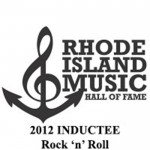 Welcome to the official website for songwriters-performers-producers Peter Anders & Vini Poncia.
Once described as "the last of the great Brill Building songwriting teams," the first national hit record for Rhode Island high school students Peter Andreoli and Vincent Poncia, Jr., "Mr. Lonely" by their vocal group The Videls, was released in 1960 and 2010 marked their 50th anniversary in professional show business.
On October 16, 2010, Peter not only returned to the stage for the first time in 36 years, but reunited with Vini for a sold-0ut performance in Rhode Island and released his first solo album in 38 years, "So Far."
This website is a "work in progress" and the next projects, already underway, are to document Vini Poncia's half of the biographical timeline during the period when their careers diverged and to finish work on Peter Anders' sessionography for the same period.
We welcome suggestions, corrections, additions and questions. Thanks for checking in – come back often.
This website was produced and is maintained by the
 HISTORICAL ARCHIVE OF THE RHODE ISLAND MUSIC HALL OF FAME